09 Aug 2020
Dubai Customs welcomes Beirut passengers with flowers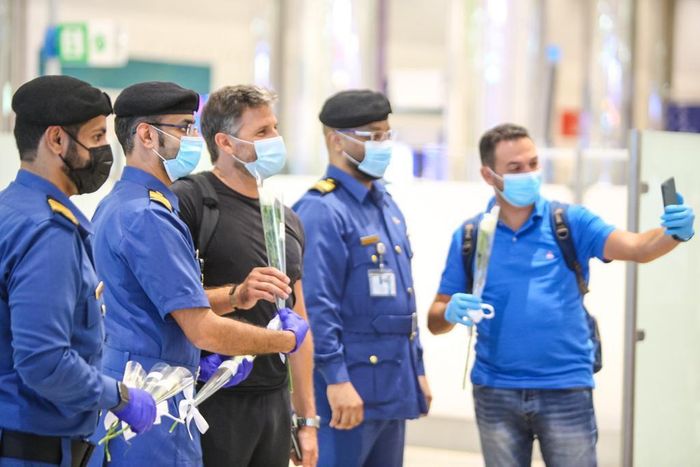 The gesture was to show support for the Lebanese people after a deadly explosion rocked Beirut last week
Passengers arriving from Beirut were given flowers and a message of support after landing in Dubai International Airport on Sunday.
White roses were handed to 163 people who arrived at Terminal 3 on an Emirates flight, with people also receiving a message that quoted Sheikh Zayed, the Founding Father. "Rebuilding Lebanon is like rebuilding the UAE," it said.
The efforts were made by the passenger operations team from Dubai Customs and was meant to show support for the Lebanese people.
Two massive blasts at the Beirut port has killed at least 158 people – a number that is expected to increase – and injured 6,000.
The shock has since turned to anger as citizens carry out anti-government protests, calling for an end to decades-long corruption and nepotism that has led to the economy's collapse.
Some passengers were left in tears as they accepted the flowers presented to them by Dubai Customs officers.
"They were tearing up because they felt that they have brothers and sisters in the UAE, who are standing by them," said Humaid Al Haj, senior inspection officer at the terminal, told The National.
"When they hear 'welcome to your home', they feel relief and joy. We, in the UAE, are standing in solidarity with the Lebanese people and welcome them as they arrive here, back to their home."
Rabih El Khoury, a Dubai resident of eight years, said he was grateful for the UAE's support.
"In these dire times, it is incredible to see so many nations rush to help," he said.
"As a Lebanese residing in the UAE, to witness what the [UAE] Government is doing for us – the least being the beautiful and compassionate welcome at the airport – is a sign of such friendship and is heart-warming."
Samer Hamadeh, a Dubai resident of 17 years, was also touched by the gesture.
"I was speechless when my friend sent me the photo," he said. "It's heart-breaking that millions of Lebanese will never know treatment like this in our own country."
UAE leaders have sent large shipments of aid to Lebanon since the explosion, including tonnes of Covid-19 equipment and a Dh10 million donation, which will go to Emirates Red Crescent's relief efforts.