23 Apr 2019
Careers UAE heads for 20th anniversary with increased career pathways across both private and public sector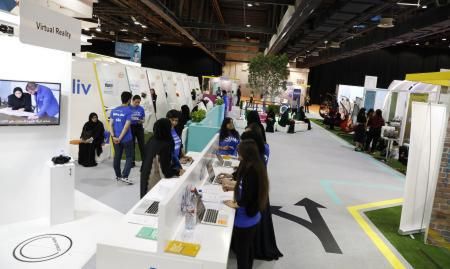 Fair website to provide year-round employment tips and advice for job-seeking UAE nationals
Press Release
Fair website to provide year-round employment tips and advice for job-seeking UAE nationals
Dubai: Public and private sector companies embracing Emiratisation, widespread recruitment tilts in emerging and technology-driven industries, and a revamped digital presence with engaging content, have all contributed in ensuring Careers UAE - the leading recruitment and training fair for UAE nationals - ended its recent 19th run at Dubai World Trade Centre (DWTC) on a recruitment high.
At the core of the show's growth, an expansive exhibitor profile of more than 100 public and private organisations were unanimous in praising Careers UAE's ability to attract quality candidates from diverse skill sets and with discernible 'futuristic' attitudes to seeking out 'smart' 4th industrial revolution roles.
"Careers UAE 2019 will be remembered as a watershed for its futuristic approach to recruitment, training, information sharing, career planning and an even split public-private sector opportunities for Emiratis," explained Asma Al Sharif, Show Director – Careers UAE 2019, which ran from March 19-21.
"It was an event where 21st century career planning and progression were dominant themes, dovetailing a vast range of career advancement opportunities across multiple sectors that are now in the throes of technological transformation. The 2019 event aligned with the UAE's Emiratisation objectives to increase the number of UAE nationals in the private sector tenfold by 2025. Careers 2019 also supported the country's mission to develop a diversified, knowledge-based economy."
Major employers report strong recruitment drives
The packed show floor was abuzz with job opportunities at organisations large and small. Al-Futtaim, one of the most diversified and progressive privately held regional business headquartered in Dubai, arrived with 81 openings to fill and has confirmed dozens of interviews with strong candidates since the show. While Jumeirah Group, the award-winning hospitality provider, looked to hire over 34 different positions and have since filled several with multiple candidates still being interviewed since the event.
Dubai Customs reported being flooded with over 600 applications daily, 60% of which were female candidates. The result has seen Dubai Customs already commit to Careers UAE's 20th anniversary showing in 2020.
"The candidates, who were high school and university graduates, represented a wide field of disciplines. They were seeking highly diverse roles across a range of expertise including IT, finance, HR, strategy and the core customs function," explained Ameer Abdul Razak Alawadhi, Senior Recruitment Manager, Dubai Customs.
Dubai Customs shortlisted candidates to 215 interviewees and then further whittled down the selection to 72 candidates who took part in on-site psychometric assessments. The tests led to 20 Emiratis being hired during, or immediately after, the show.
"What was so different this year was the range of interest in terms of skills," added Alawadhi. "We hired for the IT, HR and strategy departments – the first time we have found Emiratis for either IT or strategy."
Careers UAE 2019 proved to be a win-win for both exhibitors and job seekers, with Cisco demonstrating how the fair can unearth opportunities for Emiratis and talent for employers.
Mohammed Hatem, Cisco's Territory Sales Manager, cited the case of Cisco's dedicated Emiratisation programme. The scheme, which had often flown under UAE nationals' employment radars, found favour with over 300 applicants at this year's fair.
"A lot of Emiratis don't know about Cisco," explained Hatem. "We have a great programme in sales and engineering that is solely for Emiratis - we help them improve their technical or business skills. This is a great opportunity for us to connect with and target candidates who may not be aware of what Cisco does in the IT market, or that we're recruiting."
Hatem said there was "great talent" within the 300-plus applicants it received at the show and, after conducting onsite interviews and screenings, Cisco is looking forward to recruiting between 20-30 percent of the candidates. "I believe there is a huge demand for jobs in our sector and there are plenty of good opportunities within the IT industry, largely due to the evolution of technology; we are definitely looking to come back next year."
Aspirational candidates have eyes on the sky
Dubai Air Navigation Services (Dans) ended the show by inviting a record number of fair applicants to sit for its industry First European Air Traffic Controller Selection Tool (FEAST) examinations. Noaman Al Saleh, Dans' Senior Manager - Corporate Affairs, said the company received 400 CVs on the show's opening day – 66% up on 2018. All candidates were looking to join Dans' National Development Programme to train as Air Traffic Control Officers and Air Traffic Engineers.
Though Dans has taken part in Careers UAE since 2014, Al Saleh said the 2019 event stood out as "one of the best platforms to access national talent", adding: "Over the years, we've seen increases in interest and applications. There has been a general increase in awareness and openness from Emirati candidates towards exploring extraordinary opportunities offered in the Air Traffic Control sector."
Also impressed by the high calibre of show candidates was telecoms provider Du, which offered a horde of futuristic technology roles in cyber security, the Internet of Things and data science. Du was looking for experienced practitioners and fresh graduates eager to seize a range of advanced technology opportunities. The company's VP of People Learning and Growth, Dr. Alia Al Serkal, was not disappointed.
"When it comes to individuals, we look for those who are motivated, agile, flexible in the workplace and who show passion and commitment - a number of high-quality candidates approached us at the show," said Al Serkal.
Soft skills turn employers' heads
UAE nationals displaying soft skills to match technical abilities impressed Emirates Flight Catering's Senior HR Manager Khadija Ali. The company, said Ali, had remarkable success at the 2018 event, making several appointments including its first female Emirati sous chef trainee. Emirates Flight Catering arrived at the 2019 event keen to create a new talent pool of nationals to play a role in its growth.
"We don't look for a specific set of skills, what we look for is a can do attitude of a candidate who wants to learn and develop. We want candidates to be excited about the opportunities we are offering. Soft skills are a priority, as it's easier to learn the more technical hard skills of any job. We enjoyed a successful response," said Ali, adding the company is now reviewing aspiring chef talent as well as practitioners in nutrition, procurement, supply chain, IT security, finance and accounting.
Digital presence comes to the fore
With strong early commitments for the 2020 event, DWTC is keen to build on its 2019 initiatives. These included successful tech-engagement and digital-know-how workshops to help job seekers get noticed, CV clinics, the Talent Hunt 2019 in partnership with online internship placement agency Oliv, where visitors got face-to-face time with hiring managers from major exhibitors in a speed interview format, and the 'Career Quiz' - a trivia-style game where participants were quizzed on their knowledge of CV writing, job hunting and interviewing.
"During almost two decades since Careers UAE first opened its doors, the show has firmly positioned itself as the go-to-event for recruitment and training for UAE nationals. This success has created a further responsibility and through our online presence, we are expanding our support of the national agenda, creating additional avenues for job hunters and recruiters alike," explained Al Sharif. "Through this constantly updated resource, Emiratis can keep abreast of the latest recruitment techniques and the opportunities emerging in what is an ever-changing local employment landscape."
Careers UAE 2019 is exclusively for UAE nationals and HR practitioners. For more information, please visit www.careersuae.ae.
https://www.zawya.com/mena/en/press-releases/story/Careers_UAE_heads_for_20th_anniversary_with_increased_career_pathways_across_both_private_and_public_sector-ZAWYA20190421133249/