23 Feb 2021
HCT and GAL partner to train & employ students in aviation sector, boosting national Emiratisation initiatives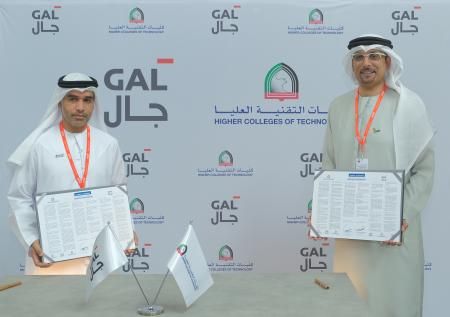 GAL, a leading regional provider of integrated aircraft sustainment solutions for military and civilian customers, today announced that it is partnering with the Higher Colleges of Technology (HCT) to train and sponsor talented UAE national students to join the company's commercial aircraft maintenance, repair and overhaul (MRO) operations in Abu Dhabi.
Mohammed Al Khemairi, CEO of GAL signed the agreement with Dr. Abdullatif Al Shamsi, HCT President & CEO, on the sidelines of the International Defence Exhibition and Conference (IDEX 2021), underway at the Abu Dhabi National Exhibition Centre (ADNEC) from February 21-25, 2021.
Under the terms of the agreements, GAL will train HCT students in the latest MRO operations and processes at its Abu Dhabi facilities, with a view to employing them as permanent employees upon completion of their studies. In addition, GAL's team of experts will collaborate with HCT faculty in structuring the curricula of aviation-related programs to ensure their continued relevance in the workplaces of tomorrow.
Students chosen from HCT's Bachelor, Higher Diploma and Diploma programs in aircraft engineering, aircraft maintenance, air traffic management, electromechanical engineering, and information security engineering, will work with GAL as part of its efforts to increase the number of qualified nationals in its workforce.
Dr. Abdullatif Al Shamsi, HCT President & CEO, commended the collaboration with GAL, and its proactive initiatives to support the HCT's efforts to train and employ its graduates and enable them to gain realistic experience in the aviation industry and engineering-based sectors.
"The HCT is dedicated to empower National talent, provide them with job opportunities, and train and equip them in the commercial aircraft maintenance sector with the necessary skills and expertise. This agreement will facilitate greater training and employment opportunities for HCT graduates, and in turn help to build the UAE's competitive knowledge-based economy," he said.
"HCT's aviation programs produce cohorts of highly skilled graduates and this strategic partnership with GAL will open up future prospects for the UAE youth, helping them build their social and professional futures. It will in turn benefit students by encouraging them to study majors required by the MRO sector, while providing them with practical training and sponsorship opportunities and supporting their future employment," Dr Al Shamsi said.
Dr. Al Shamsi affirmed his confidence in the quality of HCT graduates, which have proven their worth in various sectors, including the recent participation of a group of HCT graduates in the UAE Mars Hope Probe project team. He noted that HCT currently has about 5,603 students in different engineering programs, 45% of whom are female students.
Speaking on its partnerships with academia, HE Mohamed Al Khemairi, CEO of GAL, said: "As a leading MRO services provider, GAL is conscious of its crucial role in building the capacities of young UAE nationals from engineering and aviation focused disciplines to join our team of subject matter experts and technicians. In line with our commitment to the sustainability of the UAE's MRO sector, these partnerships will empower Emirati students to take up promising careers in the field of MRO and aircraft sustainment."
"The students will join GAL's teams in providing an integrated range of allied services to enhance operational efficiencies for our customers. Such well-intentioned synergies between academia and industry go a long way in bridging the skills gap in the UAE labor market while also adding value for our clients in terms of fresh talent and ideas," he added.