19 Mar 2019
H.E. Abdullah Ali Bin Zayed Al Falasi, Director General of the Dubai Government Human Resources Department (DGHR), opens CAREERS UAE 2019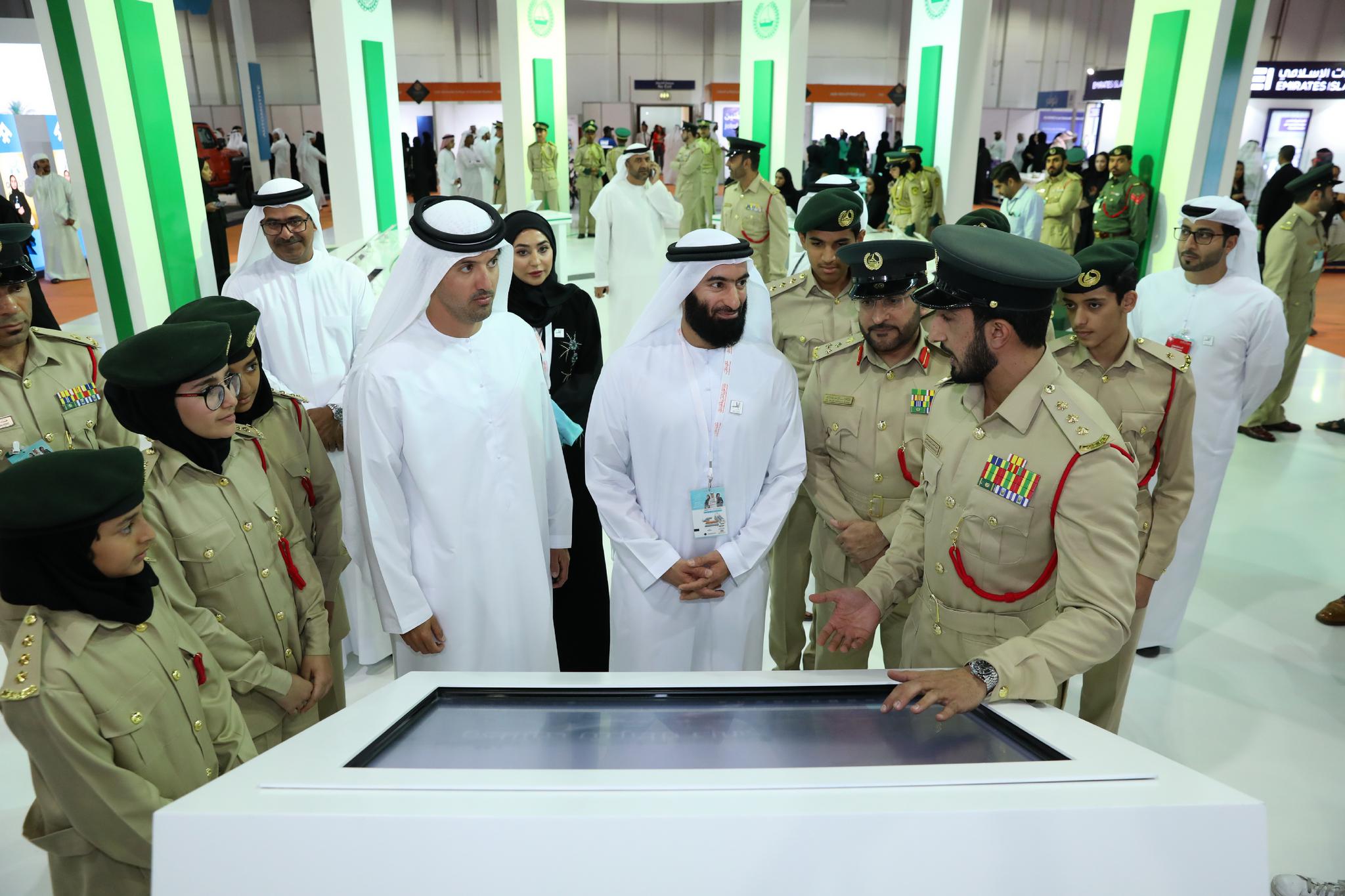 19th annual fair aligns with UAE's pioneering 50-year charter and Emiratisation goals
Dubai, UAE – Tuesday 19th March, 2019: His Excellency Abdullah Ali Bin Zayed Al Falasi, Director General of The Dubai Government Human Resources Department (DGHR), today opened Careers UAE 2019, the leading recruitment and training exhibition for UAE nationals at the Dubai World Trade Centre (DWTC), which, as the largest edition to date, reinforces the rapidly increasing and diverse employment opportunities for Emiratis in both the public and private sectors.
The 19th edition of the annual fair, which runs until Thursday 21 March, across 20,000 sqm of exhibition space, is aligned with the government's progressive 50-year charter and its drive for a 200 per cent increase in Emiratisation across the UAE employment landscape.
H.E Abdullah Ali Bin Zayed Al Falasi was accompanied by H.E Helal Saeed Almarri, Director General of Dubai World Trade Centre Authority and Director General of Dubai's Department of Tourism and Commerce Marketing (DTCM), on a tour of the exhibition, where he was given a snapshot of the enhanced show, which features organisations from a multitude of industries, from oil and gas, banking, insurance, hospitality, aviation services, including air navigation and health, to commodities, education, telecommunications and more.
Inaugurating the exhibition, H.E Al Falasi highlighted how Careers UAE provides the perfect platform for Emirati job-seekers to understand the latest labour market developments, trends and future opportunities, specifically those relating artificial intelligence and digital transformation.
"Careers UAE offers a diverse range of vacancies for nationals and allows job-seekers to directly communicate with government recruiters, which is in perfect alignment with the UAE Government's Emiratisation efforts with public sector agencies," explained Al Falasi. "The participation of 27 entities from Dubai Government reinforces the importance of this exhibition is helping reach our objectives. The Dubai Government provides hundreds of job vacancies for UAE nationals which can be submitted through the Dubai Jobs portal.
"The Department of Human Resources of the Government of Dubai also has a competency assessment centre on the platform, which allows around 20 people simultaneously to seek evaluation of their potential from competency assessment specialists. There is also a profession guidance centre which steers students towards the most important future specializations."
Careers UAE 2019 is the most expansive platform yet for Emirati graduates and job seekers to explore diverse career paths, including roles in the vital healthcare, transport and aviation sectors. New opportunities to support the UAE's ambitions as a hub for advanced technologies driving the 4th Industrial Revolution are also centre-stage at the recruitment fair.
"Careers UAE 2019 features more than 100 public and private sector exhibitors striving to engage and inspire youth with thousands of diverse job opportunities," explained Asma Al Sharif, Show Director – Careers UAE 2019. "The projected visitor pool includes new graduates and those seeking career changes, who will find a show packed with new opportunities and insights into emerging roles that will dominate the country's future social and economic landscapes."
Among the exhibitors seeking to engage the brightest talent is Serco Middle East, which specialises in delivering essential defence, transport, justice, immigration and public health services. The firm is featuring Muwazana, a new programme that offers part-time employment with the aim of introducing Emiratis to innovative employment opportunities. Serco hopes the programme will help it unearth national talent and meet business demands. Muwazana, which translates as 'Balancing,' is designed for Emiratis who are looking for a balance between work, studies and family with Customer Service Agent roles at Dubai's Metro stations.
Meanwhile, Dubai Air Navigation Services (dans) is promoting its trainee Air Traffic Control Officer and Air Traffic Services Engineering National Development Programme, which offers full-time jobs to those who successfully complete and pass the programme. "Trainees are paid a salary and enjoy employee benefits during their training period," explained a dans spokesperson, adding the programme will allow Emiratis to become "the backbone" of the country's aviation sector.
"We typically receive an average of 600 applicants for positions at Careers UAE and have hired directly from the show floor every year. Due to the unique skill set required to become an Air Traffic Control officer, a certain number of dedicated and determined applicants, year-on-year, pass the FEAST examinations, which makes them eligible to commence training for this role."
"Careers UAE is crucial for companies serious about Emiratisation. It provides the best access to Emirati talent who are keen on exploring new working opportunities and learning about what is available out there in the market."
UAE nationals are also being sought for a wide-range of posts in one of the country's newest organisations – the Emarati Consultant - which provides consultancy services and training in the field of business development, process improvement, energy, environment and economy. The consultancy, which operates across both the public and private sectors, has opportunities in HR, Training, IT, Media and Finance in the Careers UAE frame on its first fair showing.
"We are focusing on training opportunities for fresh graduates and students to develop them and participate in private sector Emiratisation," said Dr Maan Alafeefi, the company's founder.
Positions in the medical, nursing and para-medical fields are the focus at the Dubai Health Authority (DHA) stand, where Amena Al Suwaidi, DHA's Director of HR, revealed the show has proved its worth in the past by connecting the authority with "many talented Emiratis who wanted to join the healthcare sector and be under our sponsorship to study in healthcare fields."
Other high-profile exhibitors include: Emirates Group, Etihad Airways, Etisalat, du, Al Rostamani Group, Dubai Government Human Resources Department, Jumeirah International LLC, Majid Al Futtaim, New York University Abu Dhabi and DP World.
Workplace diversity is also in the spotlight this year. Female empowerment across all employment sectors is being highlighted through a partnership with Mums@Work, an online job search platform which connects mothers with flexible work opportunities. Mums@Work is hosting a series of female-focused workshop series for independent Emirati career-oriented women.
New technology-driven partnerships will enhance the visitor experience. Sundus Technology is enabling candidates to seamlessly connect with exhibitors via on-stand tablets serving as show way-finders, while visitors can plug in their CVs through BOT technology. Sonru, the trusted global leader and pioneer of automated video interviewing for screening candidates, is providing hands on experience of handling a video interview.
The show also features a powerful workshop series, held daily, which aims to provide Emirati job seekers with insights into securing work and career development. "We have a line-up of successful Emiratis, including the Her Excellency Sarah Bin Yousif Al Amira, the UAE's Minister of State for Advanced Sciences, who will use their personal experience to advise Emirati career seekers on a range of important and highly relevant issues," explained Al Sharif. "There we be tips for professionals just starting out on their career journey on how to develop their personal brand and how to cope with the often-disabling condition of career fear."
The International Gemological Institute will also deliver a session on choosing gemology – the science of dealing with natural and artificial gemstones – as a career. "This is in line with the UAE's long-standing status as an international jewelry destination," added Al Sharif.
Careers UAE 2019 is exclusively for UAE nationals and HR practitioners. Visitors will also for the first time be able to upload their CVs in advance, which will be stored on their show wristband when they enter the show, eliminating any need to bring all those CVs! Exhibitors can scan the wristbands and receive the CVs electronically. The fair is open from 10am to 6pm from 19-21 March. For more information and to register visit www.careersuae.ae