05 Dec 2018
Making the private sector a fertile ground for Emirati talent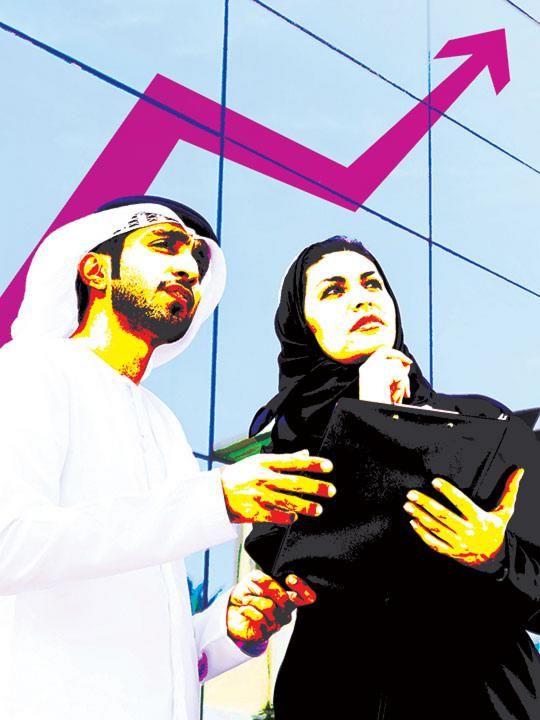 "Human capital is the real wealth of this country, before and after oil" ...
These are the words of His Highness Shaikh Khalifa Bin Zayed Al Nahyan, President of the UAE, Ruler of Abu Dhabi and the Supreme Commander of the Union Defence Force, in an address made to shine a light on active participation by Emiratis to ensure the country's future prosperity.
In view of significant proposals recently addressed by the leadership — aimed at reinvigorating Emirati participation in the workforce — I believe it's imperative we boost our engagement in the private sector. The Dubai Vision 2021 addresses a collective need to shape the country as a knowledge-based economy to promote innovation, research, and development.
Now it's up to UAE's nationals to pioneer change and lay down the gauntlet for future generations to follow suit.
According to PwC's global strategy consulting unit, Strategy&, 84 per cent of Emirati nationals are employed by the public sector. Identifying that current economic development models are no longer appropriate, the report states that untapped potential exists for new methods of engaging Emirati talent. The research findings adds that an effective response needs to be actioned to inspire more Emiratis to take up roles in the UAE's private sector.
Contrary to this, a UAE Employment Report conducted by Oxford Strategic Consulting found that 74 per cent of Emiratis felt the private sector was "very important" or "extremely important" for Emirati employment.
The research highlights that "UAE citizens must be viewed as allies, rather than obstacles, in the development of the private sector. While many may ultimately prefer to work in the public sector, the vast majority of citizens recognise the importance of the private sector for employment and are aligned with the government on this strategic country goal".
This zeitgeist of contemporary labour development presents an intriguing paradox indeed.
Despite this, these recent indications offer a wealth of healthy signals for Emiratis to step up their involvement in private sector activities. The UAE can evolve if powered by an active and esteemed Emirati workforce. But, to propagate further interest in the societal and economic benefits of Emiratis joining the private sector, we need to address the positive outcomes that can occur by obtaining a more equalised private sector in order to allure current and future generations to branch out from the perceived safety of public sector employment.
Since the country's inception in 1971, the UAE leadership has built prestige around creating a sustainable, successful, and inclusive ecosystem for private sector businesses to flourish in. As the custodians of this paradigm, Emiratis need to wield the opportunities the private sector offers to launch a competitive economy driven by their knowledge and innovative insights.
After all, as a national priority, it's in all of our best interests to protect the identity of our labour markets and to safeguard our employability in the industries of tomorrow. In May of this year, the Ministry of Human Resources and Emiratisation announced a new system defining the employment of Emiratis in the private sector; a decree that Nasser Bin Thani Al Hamli, Minister of Human Resources and Emiratisation, says will boost quality job creation and create secure working environments for Emiratis in the private sector.
Expanding on the emergent theme of empowerment, a promising display of optimism in the wake of this decree can be seen through the recent announcement that two ride-sharing companies are making recruitment drives targeted at Emirati drivers. Examples like this are setting the scene for private sector change catalysts to embrace Emirati talent, and for UAE nationals to engage in a sector of the workforce that has gone relatively untouched until recently.
The Ministry of Human Resources and Emiratisation released data in May revealing that there has been a 101 per cent increase in Emiratis joining the private sector in comparison to the same period in 2017 — a key statistic that highlights a positive shift in Emirati perceptions and motivations towards undertaking private sector roles.
These early signs reveal that the time is ripe for UAE nationals to become more prevalent in the UAE's private sector. With the launch of initiatives aimed at empowering locals to accelerate the country's growth, appropriate launch pads are augmenting Emiratis' motivations to create more opportunities and complement their existing contributions by further transforming society, cultivating secure work atmospheres, and steering the economic direction and prosperity of the UAE.
It's time we joined together to reveal the true worth of our human capital in line with the visions set out by the UAE leadership.
Abdulwahed Juma is Executive Vice-President of Brand and Communications at du.
https://gulfnews.com/business/analysis/making-the-private-sector-a-fertile-ground-for-emirati-talent-1.60763605