13 May 2019
Private institutions key partner of public sector in support of overall development journey : Theyab bin Mohamed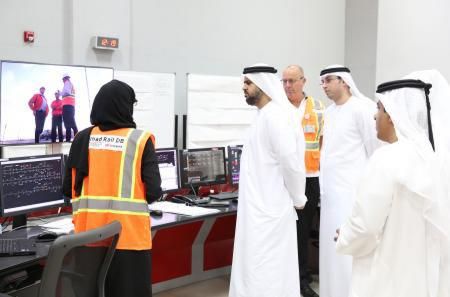 Sheikh Theyab bin Mohamed bin Zayed Al Nahyan, Chairman of the Abu Dhabi Department of Transport, said that private sector companies are partners of the public sector to support the overall development of the emirate and create a diverse and sustainable economy, adding that the main goal of the partnership is to encourage companies in the transport and infrastructure sectors to employ UAE citizens.
Sheikh Theyab made the remarks during the Emiratisation Forum of the Transport and Infrastructure Sectors in Abu Dhabi which was held yesterday in Abu Dhabi.
"Today's forum is part of the leadership's vision to improve the cooperation between the public and private sectors to achieve development goals. The forum aims to benefit the community by providing employment opportunities and attracting talent, as well as to support businesses by creating partnerships between the public and private sectors, which will encourage them to employ and train Emiratis to work for major companies in key economic sectors," he added.
Organised by the Department of Transport and the Department of Urban Planning and Municipalities, in cooperation with the Department of Economic Development and the Human Resources Authority, and with the participation of two private sector partners, the forum, which is part of Abu Dhabi's private sector Emiratisation strategy, was attended by Falah Mohammed Al Ahbabi, Chairman of the Department of Urban Planning and Municipality, and Saif Mohammed Al Hajeri, Chairman of the Department of Economic Development, along with several government officials.
The project to develop the partnership between the public and private sectors is one of the 50 initiatives being implemented during the first stage of the Abu Dhabi Development Accelerators Programme, entitled "Ghadan 21".
The forum will help qualified UAE citizens to find jobs and build a balanced overall economy, which will enhance Abu Dhabi's economic stature and strengthen its position in related global indexes, Al Ahbabi said.
WAM/Hazem Hussein/Tariq alfaham
http://wam.ae/en/details/1395302757762?utm_campaign=070519%20-%20CareersUAE%202020%20-%20Bulletin%201&utm_medium=email&utm_source=Eloqua&elqTrackId=AE9025B1DD67DDB6D896FACA2F5F39AE&elq=15bfee8e6f674f5f88fe88296c3be2bc&elqaid=5702&elqat=1&elqCampaignId