20 Jul 2020
UAE Mars Mission: History made as Hope probe blasts off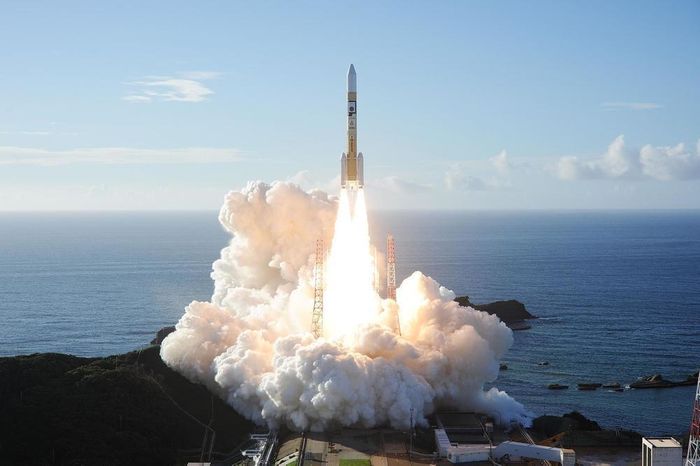 The Emirates Mars Mission blasted off from Japan's Tanegashima Island early on Monday morning - making history in the process.
The Arab world's first homegrown space mission launched right on time sending the Hope probe soaring towards Earth's outer orbit.
In the coming hours it will separate from its H-IIA rocket and begin the 200-day journey towards the Red Planet.
Approval came after weeks of heavy rain and postponements on July 15 and 17.
The National's Sarwat Nasir and Suhail Rather will be bringing you live updates from Mohammed bin Rashid Space Centre in Dubai.
The UAE joined an elite club of space nations on Monday when it sent a homegrown probe into outer orbit on a heading for Mars.
Hope was blasted out of Earth's atmosphere on a Japanese H-IIA rocket before that was jettisoned and the probe began a 200-day solo journey.
The nerves of hundreds of officials and engineers, and many millions watching across the Emirates, were calmed when the probe began transmitting its first signals home to Dubai on Nasa's deep-space network.
In the next seven months, Hope will travel at speeds of up to 120,000kph on its incredible 495 million kilometre-journey to Mars.
'Every single man and woman that was part of this programme is going to have great contribution to science, engineering and technology in the future' Omar Al Olama, Minister of State
Once there, it will use instruments to study the Red Planet's unique weather system, which remains one of its many mysteries.
To get to this point, the mission cost Dh735 million – a shoestring budget in space terms – taking a mere six years between conception and blast-off.
UAE leaders said it would show young people throughout the Arab world what is possible with education, vision and determination.
"It is the UAE's gift to the world and proves the capabilities of the Emirati and the Arab world to fulfil great achievements," said Hussain Al Hammadi, Minister of Education, shortly before the launch.
"Mars is a station and, God willing, the next step will be even better." Omar Al Olama, Minister of State for Digital Economy, AI and Remote Working Systems, told The National the Mars mission was just the start of the country's space ambitions.
"This is a huge undertaking. As you know there are three countries that are aiming for Mars this year – the US, China and the UAE," Mr Al Olama said from Dubai's Mohammed bin Rashid Space Centre, shortly before blast-off.
"Being among these great giants in the space industry, being a newcomer and an underdog, really shows a lot.
"It also shows the ambitions of the UAE are on par or might even exceed some of the countries that have a legacy in the space sector."
He said the Emirati engineers and technicians who worked to deliver the project had a bright future ahead of them.
"Every single man and woman that was part of this programme, we are sure, is going to have great contribution to science, engineering and technology in the future," Mr Al Olama said.
The Mars mission, which followed last year's eight-day journey by Emirati astronaut Maj Hazza Al Mansouri to the International Space Station, will also fulfil an early ambition of Sheikh Zayed, the UAE's Founding Father.
In 1976, he welcomed Apollo 17 astronauts Gene Cernan, Ronald Evans and Harrison Schmitt to Abu Dhabi and expressed a desire that the Emirates could one day find its place in space.
"On this day, we are living through a historic moment in the Arab world and a dream that belonged to the Founding Father, Sheikh Zayed," said Abdulla bin Touq, Minister of Economy.
"Today we witness the capabilities of our young people to realise their achievements and we congratulate everyone over this Arab achievement, which will open new horizons in space economy, develop our capabilities and elevate our people and the people of the region."
To reach this point is a huge achievement.
More than half of all Mars missions have failed and Hope faces a challenging journey, with many hazards along the way, including high levels of radiation.
About two hours after blast-off, Hope's first instruction was to turn on its heaters to ensure its fuel does not freeze. Temperatures can reach as low as minus 270°C.
Two solar panels that generate enough power to run 20 laptops keep the probe's onboard electricity running. It also has a separate fuel tank.
Half of this fuel is reserved to power thrusters that will slow it from 120,000kph to 18,000kph to enter Martian orbit next year.
The other half will keep it in orbit for a full Martian year – 687 days.
Hope aims to study the climate of Mars and will send back one terabyte of data over two years, which will be shared, free of charge, with more than 200 research centres around the world.
The Hope probe has launched. The rocket soared upwards against a brilliant blue sky before becoming just a small light as it headed off towards Mars and faded away into the distance. Incredible scenes both in Japan and the Emirates.
Five more facts about the UAE Mars mission:
Hope has two solar panels that provide 600 watts of energy to charge its onboard battery. That's about the same as 20 laptops. The probe does not have a back up battery and relies solely on these arrays for electrical power.
For the first 30 days after lift-off, engineers at the control room in Dubai's Mohammed bin Rashid Space Centre will work 24-hour shifts to communicate with the spacecraft, monitoring its health and status.
The probe also carries fuel to power its thrusters to slow it down to capture Mars' orbit. Once there, it has enough fuel to operate for one Martian year - 687 days.
Hope will not return to Earth after it has completed the mission and will power down after one Martian year. It would take about 50 years to decay in orbit before entering Mars' atmosphere and falling to the ground.
The spacecraft carries three instruments on board. One is an imager, which can capture photographs in optical and ultraviolet light. The other two are spectrometers, which splits light into wavelengths; one on ultraviolent and one on infrared. The three together will be used to understand more about the weather on Mars.