05 Aug 2020
UAE partners with Airbus to launch satellite testing and assembly centre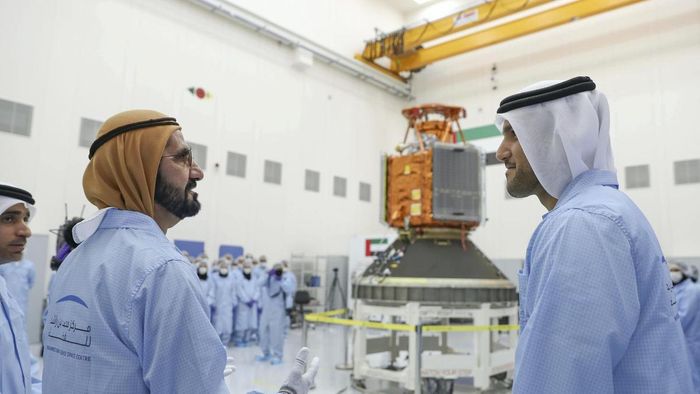 The new facility is set to commence operations next year and will create 32 jobs
The UAE's flourishing space sector is taking another leap forward as a satellite testing and assembly centre is prepared for launch in Al Ain.
Tawazun Economic Council has joined forces with major airline and aerospace manufacturer Airbus and the National Space Science and Technology Centre (NSSTC), at UAE and University, to drive forward plans to begin operations at the centre early next year.
The project will create 32 jobs, with 22 of the new employees to be Emirati.
Workers will receive training at Airbus facilities in France as well as locally.
The partnership was formed by Tawazun, a body which was was founded in 1992 to help develop a sustainable defence and security industry in the UAE.
"This is our second project after Yahsat, and there are many more projects to come, as Tawazun works to further develop the UAE space sector," said Matar Ali Al Romaithi, chief economic development officer for Tawazun.
"The UAE is building and acquiring the knowledge required to become a regional hub for space activities and advanced research and development.
"This centre is an integral part of those plans and consequently Tawazun has worked to make sure that it operates as a sustainable resource for the next five to seven years with a view to becoming permanent.
"We also value the significant contribution that Airbus is making to the Centre's sustainability, as well as to the increase and development of our Emirati resource and expertise. NSSTC will accumulate critical knowledge from Airbus through this project, and our national competencies and skills will increase significantly."
The UAE successfully launched KhalifaSat, the first satellite designed, tested and manufactured entirely by Emirati engineers, from Japan in October, 2018.
This week, the Mohammed Bin Rashid Space Centre released new high-resolution images of Abu Dhabi and Dubai, captured by KhalifaSat.
The UAE's space sector has enjoyed remarkable success in recent years, with the launch of KhalifaSat followed by the country's first astronaut, Hazza Al Mansouri, travelling aboard the International Space Centre last September.
Only last month, the Hope probe began its milestone mission to Mars.