16 Mar 2020
We need to equip young people for the jobs of the future from a pre-school age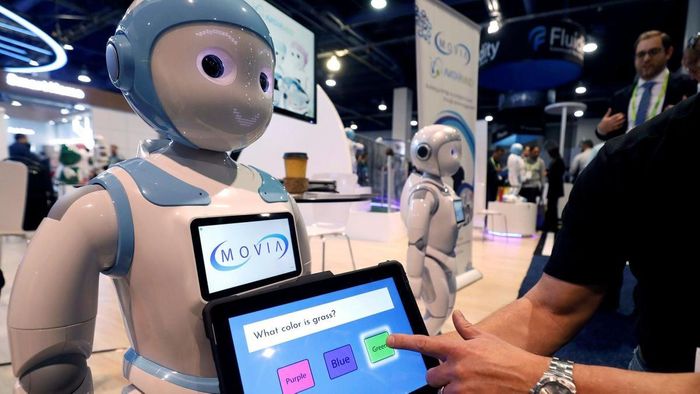 Even before the age of six, children can be taught the kind of soft skills and emotional intelligence that will matter in the job market in years to come.
As the world enters the age of the fourth industrial revolution, marked by accelerating innovation and the adoption of automation, the future of work is a fundamental question for the Middle East. While some jobs will be lost and others will be created, nearly all jobs will be transformed.
The new reality is one in which 45 per cent of jobs will be automatable by 2030. The automation potential will vary across sectors: jobs requiring repetitive routine work such as manufacturing, warehousing and transportation will see more than 50 per cent of its work done by smart devices. Jobs that require emotional intelligence and creativity such as the arts, health care and entertainment will only see a 29 to 37 per cent automation rate.
The first major consequence of the rise of automation is clear: the need for technological, social and emotional skills will rise – the qualities that machines cannot account for, just as the demand for physical and manual skills gradually drops off.
The major challenge that remains in the region is education. How do we teach and integrate the requisite soft skills in today's youth?
The recent launch in Abu Dhabi of Mohamed bin Zayed University of Artificial Intelligence, the world's first university with a singular focus on artificial intelligence, is one way in which the region is adapting to prepare young graduates for an as-yet-known future.
On a broader level, it is imperative to stress the point that the success of the Middle East's youth is of critical importance to the global workforce. Today the region is home to one in every 10 people in the world below the age of 30. By 2030, that number will become one in every six. The education of this demographic matters, not only to the region but to the global economy.
Ensuring that we equip youth with the skills employers will demand in the future is our responsibility. If we do not plan ahead now, we risk leaving a young generation feeling displaced and inheriting a more fragmented and disconnected world than we live in today.
With this context in mind, for the Middle East to thrive, education must undergo a radical shift. We cannot expect teaching and learning to continue as it is, or that talent will be automatically ready to slot into an automated workplace.
Our research reinforces this point. Up to 57 per cent of the region's currently employed workforce fall into the two categories most likely to be affected by automation displacement: those with high school or "some professional experience", and those who do not have high school qualifications. By comparison, those with a higher education degree or equivalent professional experience see the chances of their employability and job skills being replaced halve from 55 per cent to 22 per cent.
As we expect a significant increase in demand for social and emotional skills, as most occupations shift towards the strengths of the human condition, we must tailor educational modules and teaching styles around this. The very concept of a physical classroom and lecture hall will likely change. Learning could be provided through multiple sources that enhance digital capabilities and connectivity. For instance, digital platforms that connect students with teaching professionals, even peers, offer immense potential, from bringing affordable education to low-income, low literacy level areas to immersing students in the new digital world from the get-go.
When it comes to personal learning spaces, these digital classrooms can yield algorithms that can be disseminated to students' digital devices to provide ongoing feedback on preferred learning styles and environments.
The role of teachers will inevitably have to change too. To develop soft skills, such as greater emotional intelligence and creativity, teachers will become more like personal coaches besides just imparting technical knowledge. There will likely be an emphasis on developing positive mindsets and personalities that can adapt to a plethora of scenarios.
This shift in teaching styles and practices will necessitate a change in the teacher training and selection process. How do we equip professionals imparting this new set of skills? Finland provides a glimpse of the answer when it comes to teacher selection. It has pioneered an AI-informed selection process that favours personalities who lend themselves to being facilitators rather than two-dimensional knowledge providers.
To get to where we need to be, there are some fundamental steps that can be taken. Given that up to 90 per cent of the human personality is developed by the age of six, we must ensure that those "teachers" who are not in the education system but still shape the minds of the young – be they parents or carers – are well-versed in how to understand and cater to youthful emotional development. Within the education system itself, there needs to be a profound transformation of early stages learning, away from knowledge assimilation and towards the development of emotional attributes.
Our region's youth will need to be prepared for a rapidly evolving future of work. Acquiring new skills that are in demand will be critical for the economic development of the region. A well-trained workforce equipped with the skills required to adopt automation and AI technologies will ensure that our region's economies benefit from productivity growth and that the talents of all workers are properly harnessed.
Dirk Schmautzer is a partner at McKinsey and Company in Dubai, where he leads education practice in the Middle East. Marco Dondi is an engagement manager at McKinsey Middle East